Hokay, so I went ahead and tried creating some designs, probably breaking a billion rules in the process. Everything below are based on some form of monster, I couldn't think of a decent creature off of the top of my head so I wikipediadededed a list and came up with Cyclops, Harpy and Murlock; the first image being a vampire. Where Vincent is a typical Transelvanian vampire, she is an American vampire; demographically speaking. But yursh, marvel; I feel I need to work on my colour schemes though, along with downsizing on the details. I'll schoolify myself laters... or, like, never.
For the record, I put fangs on her to establish her race, but colour prevents it from showing and I didn't bother lifting a finger to sort that part out... but it's there.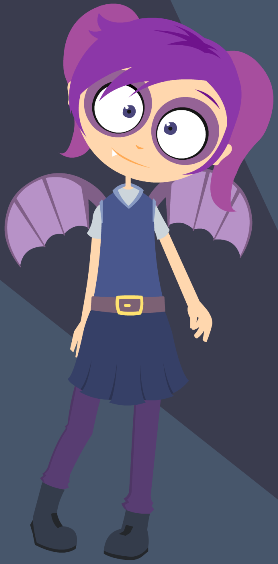 Originally I had a hulking, stupid, nose picking student in mind for the Cyclops persona, but somehow it turned into this. So instead it's a cranky music teacher weilding a drumstick.
Kinda decided on creating a much more deformed character in the ways of their monster persona, I threw a hand gesture in there to explain how the wings very much act the same as a hand would; the masquerade of hair made working on colour a nusance in its own right.
Then I figured I'd mold a murlock student. I think colour worked out best here, except with the eyes; initially the iris and pupil were all black and they just looked like huge puppy dog eyes. Story: He's asking why all the water in the pool has been drained.
Hope everywan likes. I found it quite entertaining to design images from a guide over complete scratch of my own style; it's kind of like a 'Create your avatar!' website or something, except you get tonnes more freedom. Not that I
dont
enjoy drawing in my own style though.